Engaging Our Communities to Save Lives – Quickly
In an emergency, every second counts. But sometimes there aren't enough seconds to get to the emergency on time. And, in some communities and countries, there is no emergency response system at all. That's why Jason Friesen, Founder and Executive Director of Trek Medics, put technology to work to save lives.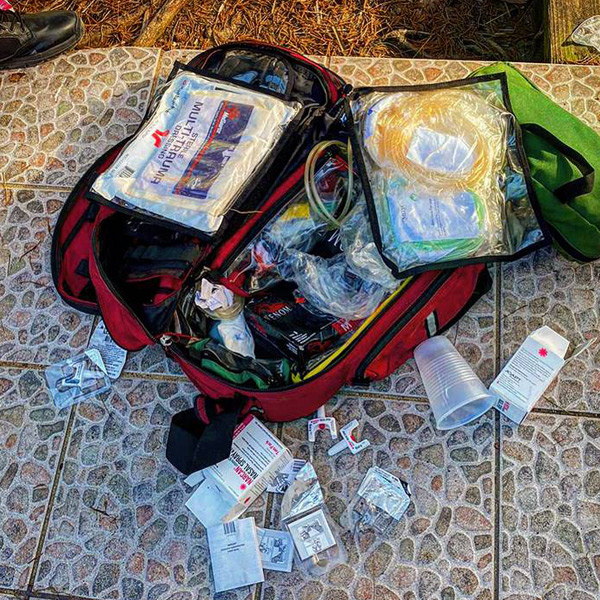 A paramedic by training, with over a decade of experience supporting international humanitarian aid organizations, Jason Friesen has seen his share of emergencies. In the early 2000s, Jason was working in San Diego, California as a paramedic. He recalls that success was measured by whether the ambulance was on the scene within 8-10 minutes of an emergency call.
"Until you get on the scene, there is absolutely nothing you can do to help," said Jason.
But depending on the community, the location of the emergency, and the location of the ambulance, this may be a difficult task. This is a sobering thought. Regardless of the sophisticated emergency response systems we rely on throughout most of the US today, they are only effective if first responders can arrive in time to help. And, sometimes, they just can't.
What do you do if you are in rural Nevada and witness a medical emergency? It's a trick question; you call 911. What if that person is experiencing a drug-involved overdose and the ambulance is 45-minutes away? The most important thing to do is act right away, and administering naloxone may help keep the patient alive until EMS can arrive. What if there was a way to send a message to someone nearby who might have an opioid overdose reversal medication, someone who could potentially save a life?
What do you do if you're in Mwanza, Tanzania and witness a road traffic accident resulting in injury? You can't call 911; it doesn't exist. You know that the sooner the patient can get medical care, the better their chance is of survival, and the local community will do what they can to help. What if there was a way to send a message to someone nearby who has first aid training and access to transportation, someone who could save a life?
Jason saw the need and the opportunity.
Technology had come a long way since Jason's days on the ambulance. In addition to working in the US, he had worked in countries around the world in emergency aid – in many cases where conventional emergency response infrastructure didn't exist – and witnessed how technology was always front and center. Jason knew this was the answer: he could use technology to create a system that supports and augments EMS across the country, and around the world.
"I believe that everyone – everyone – has a fundamental right to get help when needed."
— Jason Friesen
In response, Jason created Beacon, a text-based emergency dispatch platform that alerts responders to an emergency and determines who can get to the scene quickest. With the simplicity of a text message, emergency response is alerted and, in less than five minutes in most cases, help is on the scene. The help, however, is not EMS; it is a neighbor. A neighbor who cares. A neighbor who has the training to respond. And a neighbor who is close enough to provide help while EMS is on their way.
Beacon is not a replacement for 911, nor does it work independently or against 911 systems. Instead, Beacon connects EMTs, paramedics and first responders to people who need their help. These people are dispatched to help until emergency first responders arrive. And "help," as Jason has learned over the years, can mean many different things. When you are experiencing an emergency – any emergency – you call 911. You don't call 911 for one type of emergency and a different number for another. Beacon is designed in the same way – to support people who need help, wherever they are.
In June 2019, Jason received a grant from Purdue Pharma to pilot Beacon in the United States to enable community-based first responders to respond to opioid overdoses. The pilot program was launched in partnership with S.V.E.R.I Rescate Isabela (a volunteer emergency medical service serving NW Puerto Rico) and, within the first month of the pilot, the first life was saved.
In 2020, Beacon began its second pilot program in Hartford, Connecticut. In partnership with the Greater Hartford Harm Reduction Coalition, the team built a community-based overdose response network that sends simple text messages to community responders equipped with naloxone when an active overdose is reported. From March to December 2020, GHHRC responded to 1-3 overdoses per day, arriving on scene on average in less than 6-minutes, and very often before emergency responders.
Today, Beacon is active in the United States, Puerto Rico, Tanzania, Haiti, Somalia and the Dominican Republic addressing a variety of emergencies that are relevant for those communities. In 2020, Beacon dispatchers responded to over 100,000 calls for potentially life-threatening emergencies, of which over 300 of those calls were for overdoses alone. Jason's goal is to find other communities who need better emergency response communications to partner with Trek Medics and the Beacon platform and empower communities to help where it's needed most.
Jason's belief that everyone has a fundamental right to get help when needed fueled Trek Medics in its early days. He then quickly realized it's a relatively simple and straight forward way to address opioid overdoses and other emergencies, because there are people willing to help. By harnessing that human instinct, Beacon has become a stopgap. "It's a model that allows us to engage the community and, ultimately, save lives," says Jason.